DIY: Fitting a caravan tracker
debedd01-2765-49d1-8dec-e77da08ca1e2
DIY: caravanning projects to try yourself

Keeping your caravan safe can be made much easier by installing a safety device.
When I bought my 'van, I looked at having a tracker fitted but prices were from £200 to £400, plus £150 for fitting, plus an annual subscription of anything up to £200 for the monitoring service, so I searched for a cheaper option.
Posing the question on the forums and searching the internet elicited some less expensive options, many with all sorts of bells and whistles. One allows the tracking centre to trace your vehicle and determine the average speed it's travelled at over the last 30 days.
It can even stop the engine starting again at its next stop. It also offers all sorts of data, including being able to listen in. Now that could be fun! But all I want is to find it again if someone steals it.
Fitting a tracker
In the end I settled on a relatively inexpensive (£69.99) DB1-Lite Tracking Device self-contained tracker unit from Rewire Security that had just five wires to connect: red and black for power; a yellow wire for a switched positive supply (like the radio has) and a white and grey wire that I had left unconnected intentionally.
It comes complete with a pre-installed £5 pay-as-you-go SIM card with full instructions on how to top it up. But what swung it for me was I can track it myself for free, so when my son borrows it I can see where he's been (tee hee!).
Because you track it and not an independent control and monitoring centre, it's not Thatcham Approved so you probably won't get much, if any, insurance discount for fitting it. But to my mind, all I want to do in the event of it being stolen is to find where it is and direct the police to recover it for me.
---
Phantom Pro 3 Caravan Tracking System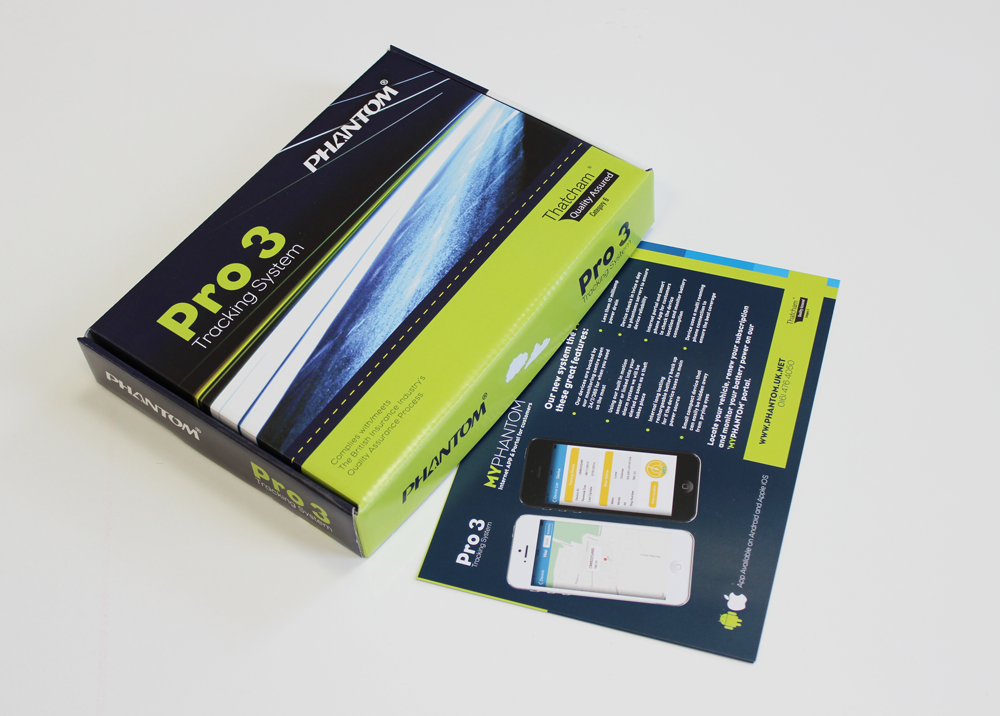 If you want an altogether more substantial and comprehensive caravan tracking system consider the Phantom Pro 3 Caravan Tracking System.
It's Thatcham certified CAT6 approved and has a greater range of benefits to track your caravan should someone steal it. The Phantom team call you should the alarm go off to check if it's false alarm or not.
Price from £499
---
The box it comes in has the tracker unit, which measures about 3 inches by 1½ inches by ½ inch and a basic/brief instruction manual along with details of the website to log onto along with the password and username you will need.
It took 10 minutes to wire it into my caravan. I made up a light, ply bracket. I stuck it to the caravan and cable-tied the tracker to (you could use elastic bands or sticky pads depending on the location).
Initially, I couldn't find an ignition connection for the yellow wire, but an email to Rewire Security easily solved that issue — ignore the yellow and just wire in the red and black only. Each time the engine starts, the rise in voltage from the alternator will kick it into life.
So even easier, it's just two wires to connect and it's done. I won't tell you where I hid it, but it was pretty straightforward to find a suitable spot, you just have to make sure it's pointing up to clear sky with, say, just GRP above, so don't hide it under the caravan or anywhere too obvious!
I'd already taken the radio out to identify a switched supply and to do another job and could have tapped into the wires there but, in the end, I found a red and black right next to where I'd planned to mount the tracker so connected it to those.
The fourth grey wire is intended to go to a relay that maybe one day I'll wire into the outside light, so I can find it easier at night.
Does the tracker work?
Before I wired it in, I logged onto the website and typed in my password and login details — all easy — and it showed the unit was in Bristol. Bristol? I'm nowhere near Bristol, so what's going on?
Worry not, that's where it was made and the last place where it was powered up.
So, I just moved the caravan, logged onto the website and it shows where it currently is. It works, but let's hope I never have to use it. It couldn't be much easier, two/three wires, half-an-hour messing about and it's all done. Oooh, I feel like a real techy expert now!